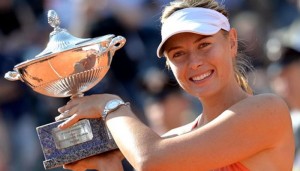 Spare a thought this Wimbledon for Maria Sharapova. In 2004, she won the tournament as a coltish 17-year-old. Now she is an outcast, banished for taking meldonium, a banned substance, for a magnesium deficiency, she said, and because of a family history of diabetes. By taking it in contravention of the rules, the International Tennis Federation said, Ms Sharapova was the "sole author of her own misfortune".
And so, like so many lost and purpose-seeking twentysomethings before her, she has decided to attend graduate school. Well, almost. She has signed up to a two-week course at Harvard, including two classes at its business school. The course is one of the university's many money-spinning summer schemes.
Ms Sharapova's highest level of formal education is an online high school diploma. But during her case study discussions at Harvard, she will speak with the authority of someone who has been the highest-earning woman athlete in the world for 11 years, bringing in close to $300m. Along with her on-court earnings, she has collected endorsements the way other players collect blisters: Nike, Head, Tag Heuer, Avon, Porsche, American Express. She also has a company, Sugarpova, which sells lip-shaped gummy bears and chocolates. With all this at 29, one wonders what Harvard has to teach her.
The Business of Entertainment Media and Sports course, a four-day sprint, has proved popular with all sorts of athletes and celebrities. Judging from her Twitter feed, Sharapova has opted for a more fibre-rich course called Global Strategic Management, aimed at "senior decision makers with significant responsibility for global business management at established multinational firms".
This covers subjects ranging from transfer pricing in a multinational, labour arbitrage and political and financial risk mitigation. It is no summer breeze, no jock's easy credit. Either Ms Sharapova misread the course catalogue or she has ambitions far beyond those of most superstar athletes.
Harvard Business School produces mixed results, as I know from personal experience. A month or so ago, I went to my 10-year Harvard MBA class reunion. Ten years is a good length of time after which to reunite. The chest-beaters have been tamed a little. Life's vicissitudes have evened out the luck. I ran into classmates from some of the world's top companies and all agreed that, when it comes to organising and rallying a group of people, Harvard Business School is right up there with the best. These reunions are precision managed.
You are never more than an arm's reach from coffee, cookies or a novel strategic framework. What was apparent while I was at business school is even more so now. You can learn a lot doing an MBA.
You study many business issues and situations and see how decisions get made. The problem is that, while the cases you discuss are real, what you are doing is purely academic. This leads to many intellectually well-groomed MBAs sallying forth, oozing with misplaced confidence and making epically poor decisions. They learn the art of decision making and the science of risk and reward but never develop the gut to face real life consequences.
The people who benefited most from an MBA were different. They knew precisely what they were there for. They had fixed goals and business school was the means. They were not getting the MBA for the experience or as a quest for self-discovery. They were there to learn some hard skills, meet specific people and launch themselves off in a particular direction. They were fully realised personalities who knew they had the gumption to take care of the rest.
A decade on, many of them had achieved a lot of what they wanted, while the meanderers were still trying to figure out if consulting or banking were the right stepping stones towards a still fuzzy target. What also seemed true was that those with the strongest professional purpose had also built the strongest personal lives.
Harvard is a fascinating place to think this, because it is so extreme. Its professors and their ideas shape global business. Its campus is beyond perfect. The joke is that they shampoo the squirrels and painted the grass the perfect shade of green. The alumni range from the justly renowned, Michael Bloomberg and Sheryl Sandberg, to the nefarious, Jeff Skilling of Enron. If ever there was a place for Ms Sharapova to consider hubris and nemesis, HBS is it.
It must be disconcerting for a young athlete to be showered with money and attention and to look around the room as they are signing their contracts and wonder why all these people who cannot run or hit a ball like they can, who have job titles they could not explain to their own mothers, look so pleased. It must have occurred to Ms Sharapova on the way to her $300m. She is clever to use her enforced break the way she is.
I hope that once she has served her penalty and is back grunting along the baseline at Wimbledon, she can use what she is learning at Harvard. And that she forces her agents and sponsors, everyone who for years has been telling her to "sign here", to up their game.
Source: The Financial Times
Author: Philip Delves Broughton