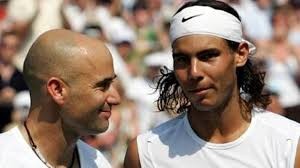 Tennis legend Andre Agassi has penned a letter to Rafael Nadal in an extraordinary act of admiration.
The eight-time grand slam champion posted the note online to convey how phenomenal Nadal's record is on clay at Roland Garros.
Posted following Nadal's French Open first round win over Australian Sam Groth, the handwritten message shows the 46-year-old from Las Vegas is in awe of the nine-time French Open champion.
Agassi, in the letter, labels Nadal "inspiring" and "remarkable".
"It took me most of my career to accomplish the herculean task of winning the French Open one time," Agassi wrote.
"Watching you attempt to win it for the tenth time is not only remarkable … it is inspiring.
"You make me believe in life that anything is achievable and nothing is impossible.
"Go get 'em."