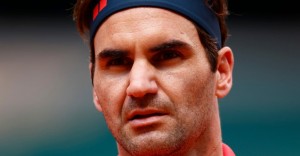 In the wake of Roger Federer's harrowing announcement that he'll be undergoing a fourth knee operation that will leave him on crutches for weeks and sidelined for months, a single observation came to mind. Long ago in New York, writer Lloyd Carroll noted the obvious, saying, "The aura of Roger Federer is all over the US Open." More to the point, for decades the aura of the great champion has been hanging all over tennis. For years the prime narrative in the storybook of men's tennis revolved around the singular Swiss.
We know the chapters. There's the young long-haired prospect taking down mighty Pistol Pete at Wimbledon in 2001. There's the Swiss grabbing his first Grand Slam at Wimbledon in 2003, or weeping when Rod Laver handed him the shiny trophy in Melbourne. And there's The Mighty Fed falling to Nadal in the Wimbledon dusk in 2008 in the greatest match of all time. Finally Roger would lift that illusive French Open trophy. He'd switch to a larger racket, suffer his first knee injury, score a stunning fifth-set comeback to down Nadal in Melbourne and fail to convert two Wimbledon championship points against Novak Djokovic. In his twilight, there would be more injuries and a string of un-Federerian losses.
Still, across three generations, Roger both inspired wannabes and left his foes dumbfounded. In his shadow, otherwise imposing athletes appeared ordinary. "He made Andy Roddick seem like a Buick," joked one observer.
His story is, in part, about astounding numbers: Roger has reached 31 Slam finals and won 20. He battled his way to 23 straight Grand Slam semis, was No. 1 for 310 weeks, reached 58 quarterfinals and is the only player to win at least ten titles on all four surfaces.
He's won 103 titles and both Wimbledon and the US Open five straight times. At his peak he dominated. Writer Sue Mott suggested that it won't be long "before dictionary writers are asked to absorb the verb 'to Federer,' meaning 'to demolish with gasp-inducing precision.'"
Yet there always was an impish boy within. He'd giggle with his arch-rival Nadal or show his sensitive side and tear up at award ceremonies. And, of course, no other champion could so astound us with a mere flick of the wrist. The New Yorker said, "To root for Federer is to root for a platonic ideal. It is like rooting for truth."
Roger was one king who was always comfortable on his throne. His wife Mirka said, "I can't imagine anyone waking up every morning being so content with everything." He exuded an existential quiet. Here was a rarity in our game – a grunt-free zone with little angst. He once sported a retro cream blazer at Wimbledon. One summer old school Brits – who so adore civility – lifted the Swiss up to an almost saintly pedestal. But then, just eight weeks later, we saw a far more gritty Roger, a street-fighting man in black inspiring the rowdy US Open throng. In South Africa over 50,000 devotees came out for an exhibition. Fans traveled thousands of miles to Indian Wells just to see him practice. Where has he not been embraced? His brand – confident urban chic – soared like an Alpine peak.
He's had it all: one of the most crowded trophy cases in all of tennis, a loyal, loving wife and not one, but two sets of twins. And his no-sweat, "I've got this covered" social skills impress almost as much as the easy fluidity of the most beautiful shot in tennis – his cross-court topspin backhand. With barely a blink, he navigates through press conferences in three languages and hobnobs with the mighty. There he is, chatting with Tiger Woods about the isolation superstars suffer. He compares tennis and hoops with Michael Jordan. And yes, he sits by Queen Elizabeth's side having a proper English lunch. Then, with a playful twinkle in his eye, he tells the press that she gave him tips on his backhand.
All the while Roger has always been just a regular guy. "He beats the crap out of you," recalled James Blake, "Then you come back in the locker room and he's one of the guys." Mid-match at Wimbledon, Dominik Hrbaty thanked him for being his friend. Andy Roddick poignantly noted, "There was never a sense of entitlement with Roger. How he conducted himself when no one was watching is the takeaway I have."
The man helps wide-eyed kids in dusty Africa and inspires well-heeled glitterati from Monte Carlo to Manhattan. Swiss and Austrian post offices offer Federer stamps. Streets in Switzerland and hotel suites in New York bear his name. Tournaments give him cows. He gives us memories.
How can we not compare him with others? His devotion and love of the game bring to mind Rod Laver. Like Bjorn Borg, he's a Euro zephyr. He has a discipline suggestive of Ivan Lendl and Djokovic – but with ease and joy. Like Pete Sampras, Roger claimed Wimbledon's Centre Court to be his own. At times it simply seemed to be his studio: "Quiet – genius at work…Federer is betterer." Yes, Rafa's muscles glisten. Novak's splits astound. There has been no greater tennis craftsman than Nole. But Roger long has been the game's artist-in-residence. His backhand is liquid. His serve is powerful yet silky. His imagination prompts invention.
Beyond tennis, Roger draws comparisons with our greatest geniuses, like Leonardo da Vinci. Neither man could avoid beauty. Federer is sports' answer to Fred Astaire – kinetic perfection their creed, balance the key. Like Baryshnikov, Roger lifts athletic grace to astonishing heights. Like Picasso his distinctive strokes inspire. And what of this Swiss tennis player and Steve Jobs, the wizard of Silicon Valley? Well, they both did their best work in sneakers.
In the end, Federer is incomparable. David Foster Wallace said the man defies gravity. "He somehow coaxes the ball to be still, to hang in space. The yellow sphere seems to pause for a curious half second, almost still." To master coach Steve Stefanki, "Federer never looks like he's imposing his will…He's playing off the music of his opponent."
Jim Courier is famous for his celebratory dive into Melbourne's Yarra River, but said he wouldn't do it again because Roger might be walking on its waters. A sign at the Miami Open read, "Commit your sins when Federer is playing. Even God is watching."
But even the caring Roger can't counter that most uncaring of forces – time. The chances of a 40-year old returning to the very top from a fourth knee surgery are slight. Then again, Nicolas Kiefer reminded us, "We are on Earth – he's on another planet."
Still, we can't help but wonder whether we'll soon be living a tennis world without Roger. So we remember that baseball survived without Babe Ruth. The NBA didn't fold when Michael Jordan stopped soaring. But get ready – tennis without our ethereal ambassador just won't be the same. And the day is coming when this graceful man will no longer grace our courts. Then we'll have to gather round, hold hands, sing Kumbaya and trust that Planet Tennis without Roger will still spin, and continue to nurture our souls.
Sages tell us, "All things must pass." But, boy, don't we wish it weren't so? Immortality does have its appeal.
Source: Inside Tennis