To turn it round as Barça did, you must conjugate a thousand verbs at the same time. To begin with, the team must believe that it is possible, and Barca believed it – twice (both at 0-0 and at 3-1) – and made the Camp Nou fans believe in a scenario of communion forced to convey that conviction with which PSG would, emotionally, encountered an additional difficulty: that of scenic fear. And frankly, in the first half, the French champions went down that route.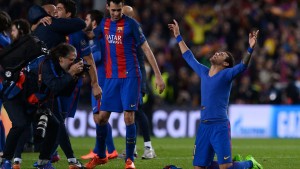 The Camp Nou, from before the initial whistle and until well beyond the miracle, was what the locker room asked it to be: Barca's house, spirit, and soul. An attitude to which the team responded by transmitting on the field what their appearance hinted. Just three minutes in the game were enough for PSG to fear that the worst would happen to them.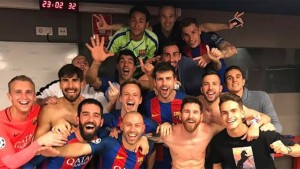 On the drawing board, the tactics situated only three at the back and Ter Stegen, a goalkeeper and loose defender. The team had to pressure the opponents until suffocation. Each player had to insist and persist. The team had to mastered the two areas and get lucky in them. Or not to have misfortune. So it was. Seven shots on target, six goals. Luck in some decision of the referee and the Barca's goalkeeper saved some impossible shots. And Marc André did his miracle both in his area and also in front of the PSG area. Recovering a ball that gave rise to the sixth one. That of Sergi Roberto. That of the miracle. The miracle was complete by the 95th minute.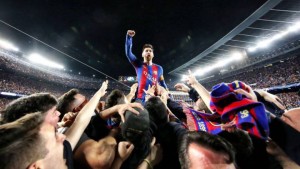 At that point, in London's BT Sports studios, Rio Ferdinand, Gary Lineker, Steven Gerrard and Michael Owen literally jumped out of their seats to celebrate Barca's qualification. Barça's global spot, which was previously unsean, was already underway. Meanwhile, on the field, Messi, excited and proud of his team, seemed, and still seems, to cry in the arms of Luis Enrique.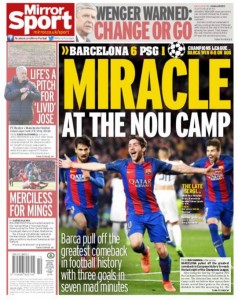 Today there is more Barca fans than yesterday, and yes, maybe less than tomorrow but there will never be one more culé, more Barcelonista than Leo Messi. He feels the colors much more than the money. El D10S stays here, at the Camp Nou. He is not only Barca's best player. Not only the world's best player. He is also Barca's most dedicated and authentic fan.